Identical twins form when a zygote (egg/sperm combination) splits into two separate parts.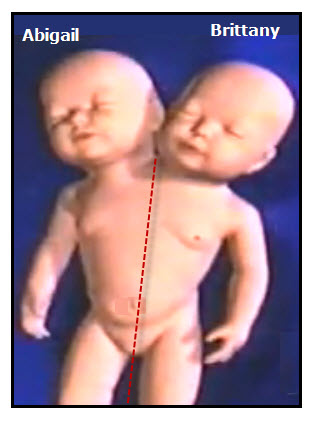 Conjoined Twins are identical twins formed when the zygote splits but does not fully separate. The conjoined twins will be connected at certain points of the body.
The model is of Abigail and Brittany, twin girls that function very well with only one body. The red line is drawn down the center of the body of these conjoined twins to represent which side of the body each girl controls.
Anything that is unusual is a bit shocking at first. But, while I have never met these girls, I've studied about them and watched TV and video programs about them. What I find most interesting is that after a few minutes, I found myself listening to each girl–looking at her eyes the way you would with anyone that is speaking. Yes, as a scientists, I am very interested in how they are able to walk and even drive when each one of the girls controls half of the body they share.
I'll not be surprised to see these two girls in politics–or some other public office. They are bright–personable– and able to accomplish task they choose to accept.
Conjoined twins are classified according to the place on the body where the twins are connected.
Cephalopagus: Upper Trunk & Head (Front/Back)
Craniopagus: Head
Epholothoracopagus: Brain, Head & Chest 
Omphalopagus: Trunk (Front/Back) 
Pygopagus: Rear End
Thoracopagus: Chest (Side to Side)
Parapagus: Lower Body (Side to Side)
Ischiopagus: Lower Body (Front/Back)
Dicephalus Conjoined Twins have two heads and one body.
Use Discount Code–

AFF20

—-to save 20% on Purchases.