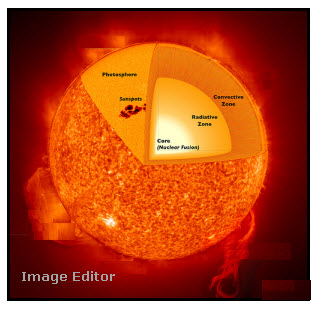 Question: What are cosmic rays?
Answer:
Cosmic rays sound like something from a science fiction movie. They are a type of radiation that originates in outer space, but are not rays. Instead, a more correct name would be "cosmic particles." Sometimes common names continue to be used even though they are incorrect.
Cosmic rays can generally be defined as high energy radiation that strikes the Earth from space. Most cosmic rays do not get through earth's atmosphere.
Cosmic rays are basically the combination of three particles: 90% high energy protons (hydrogen nuclei), 9% alpha particles (helium nuclei), and 1% electrons.
Question: Are cosmic rays dangerous to space craft?
Answer:
Cosmic rays are called ionizing radiation because they have the tendency to collide with atoms with such force that they knock the electrons off the atom creating ions.The collision of cosmic rays with gases in Earth's upper atmosphere results in the charged particles in its ionosphere (upper layer of the Thermosphere).
A piece of biomaterial left unprotected for an extended time in the ionosphere would turn into what looks like Swiss cheese. This is one of the greatest challenges for human space colonization. All space colony designs feature massive shielding to repel cosmic rays.