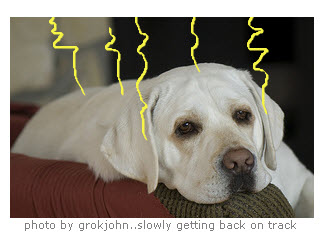 I added the squiggles to the photo to represent bad odors. The photo represents Salty, my husband's dog who is presently peacefully  sleeping on a warm blanket in my office. Smells from his body are definitely diffusing throughout my office.
So why do I have a smelly dog in my office? Its a long story but the short version is that Salty is an outdoor dog. He has a dog house but today our five farm cats took over Salty's house. It is cold and raining and Salty was standing at the back door shivering. My guess as to why Salty gave up his warm house is that these cats can be really be mean and they have lots of long sharp claws.
The dog's odor seems to be getting better.  UUM! Guess my senses are becoming desensitized.