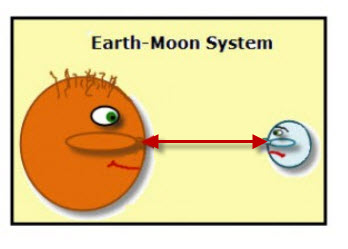 The Earth and the Moon act as if they are playing a game of "Tug-of-War."
The Moon's gravity is tugging at the Earth and the Earth's gravity is tugging at the Moon.
The Earth is much larger and much more massive than the Moon.  Since the force of gravity decreases with distance, there is just enough tugging to keep the Moon from moving away from the Earth.
The Moon continue to circle around the Earth. While there is no real connection between the Earth and the Moon, they continue to stay together.
How to Model the Earth-Moon System.
Earth–Teacher
Moon–child
gravity between bodies–rope
Use the model, discover the answer for the following :

1. What would happen if Earth's  gravity suddenly increased? (teacher pulls harder and child moves closer)
2. What would happen if Earth's gravity suddenly decreased? (teacher pulls less and the child pulls the teacher closer)