What Do Earthworms Eat?
Earthworms eat dirt! That is, they take the dirt into their mouths and it passes through their digestive system. But it is the nutrients in the dirt that remains in the worm's body.
These nutrients include, decaying roots and leaves. Animal manures are an important food source for earthworms in the soil. They eat living organisms such as nematodes, protozoans, rotifers, bacteria, and fungi in soil. Worms will also feed on the decomposing remains of other animals.
Challenges: Is the Worm Fact True??? Maybe it is true for some types of earthworms. Maybe it depends on environmental conditions.  How could you find out?
What To Feed Earthworms
in a Composting Bin!
I do not have a composting bin at this time, but when I did:
I fed my red wiggler earthworms:
food scraps: vegetables, fruit (no citrus), breads, coffee grounds and tea leaves
moist paper: used paper towels, news paper strips, cardboard, used coffee filters
I DID NOT feed my red wigglers these things: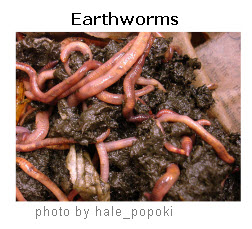 citrus fruit
glossy pages from magazines
spicy foods, such as jalapeno peppers
acidic foods–citric fruits, vinegar, pickles, etc
 For general information about caring for earthworms, see Earthworm Care: Housing and Diet