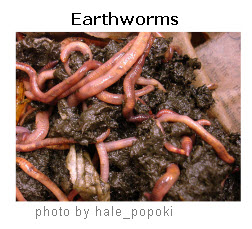 There are thousands of different species of earthworms, but they can be divided into three groups based on their feeding and burrowing habits. Each group is important to maintain healthy soil.
1. Surface soil and litter species – Epigeic species.
These earthworms live in or near surface plant litter. They are typically small and being at the surface, these earthworms are adapted to the highly variable moisture and temperature conditions of surface soil. The worms found in compost piles are epigeic and are unlikely to survive in the low organic matter environment of soil.
2. Upper soil species – Endogeic species.
These earthworms move and live in the upper soil strata and feed primarily on soil and associated organic matter. They do not have permanent burrows. The channels they make as they move through soil becomes filled with casts. In other words, these worms eat the soil in front of them, thus dig a channel. But the casts excreted from their rear end fills up the channel. Dirt goes in one end, passes through their body where nutrients are removed and the waste (cast) is excreted behind them.
3. Deep-burrowing species – Anecic species.
These earthworms are called "night crawler." Their scientific name is Lumbricus terrestris, and they live in burrow systems that may extend several meters into the soil. These worms feed mainly on surface litter that they pull into their burrows. They may leave casts (plugs= waste= organic matter) blocking the mouth of their burrows.

For more information about earthworms, see WORM INDEX