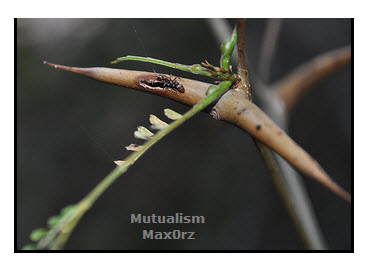 Batesian mimicry
A type of mimicry in which one species evolves to resemble a species that has superior protection against predators.
biodiversity
Variety among living things. There are three principal types of biodiversity: species diversity, geographic distribution of species populations, and genetic diversity within species populations.
biological legacy
A living thing, or product of a living thing, that survives a major ecological disturbance. Biological legacies proved to be crucial in the process of succession that occurred at Washington State's Mount St. Helens following its eruption in 1980.
climax community
The relatively stable community that develops at the end of any process of ecological succession.
coevolution
The interdependent evolution of two or more species. Coevolution can benefit both species, as in flowering plants and their animal pollinators, or it can be an arms race between species, as in a plant and its predators.
coexistence
The condition in which two species can live in the same habitat, dividing up resources in a way that allows both to survive.
commensalism
An interaction between two species in which one benefits while the other is neither harmed nor helped.
community
All the populations of all species of living things that inhabit a given area. The term also is used to mean a collection of populations in a given area that potentially interact with each other.
competitive exclusion principle
When two species compete for the same limited, vital resource, one will always outcompete the other and thus bring about the latter's local extinction.
ecological dominant
A species that is abundant and obvious in a given community. In any community, a few species, usually plants, will dominate in numbers.
facilitation
In primary succession, the actions or qualities of earlier species that in some way assist the establishment of later species within a community.
habitat
The type of surroundings in which individuals of a species are normally found.
host
The prey in a parasitic relationship.
hypha
The slender filaments that make up the bulk of most fungi.
interspecific competition
Competitive interaction between individuals of two different species.
keystone species
A species whose absence from a community would bring about significant change in that community.
mimicry
A phenomenon in which one species evolves to resemble another species.
Müllerian mimicry
A type of mimicry in which several species that have protection against predators evolve to look alike.
mutualism
A form of relationship between two organisms in which both organisms benefit.
niche
A characterization of an organism's way of making a living that includes its habitat, food, and behavior.
parasite
Organisms that feed off their prey but do not kill them, at least not immediately.
parasitism
A type of predation in which the predator gets nutrients from the prey but does not kill the prey immediately and may never kill it
predation
One organism feeding on parts or all of a second organism.
primary succession
In ecology, succession in which the starting state is one of little or no life and a soil that lacks nutrients.
resource partitioning
The dividing of scarce resources among species that have similar requirements. Such partitioning allows species to coexist in the same habitat.
secondary succession
In ecology, succession in which the final state of a habitat has been disturbed by some force, but life remains, and the soil has nutrients. A farmer's field that has been abandoned is a site of secondary succession.
species
A group of actually or potentially interbreeding natural populations that are reproductively isolated from other such populations.
succession
In ecology, a series of replacements of community members at a given location until a stable final state is reached.
top predator
A species in a community that preys on other species but is not itself preyed on.