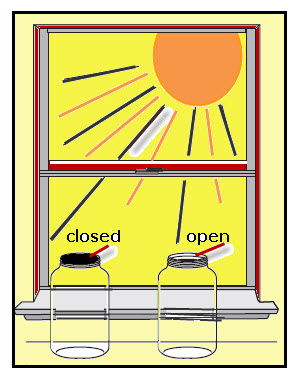 A model represents something. For example, a model airplane is a replica of some real airplane, but much smaller.
A model can also represent how something behaves, such as a closed jar represents how Earth's atmosphere keeps Earth warm. This is done because the atmosphere, a blanket of air that surrounds Earth, traps heat leaving Earth. This prevents the Earth from loosing its heat to space.
The diagram shows a closed jar and an open jar. The content of the closed jar gets warmer than does the content of the open jar. If you insert a thermometer in each jar, you will be able to measure the temperature changes.
Collected data, such as changes in the temperature inside of the jars can be graphed.  For an example of graphing this type of data, see