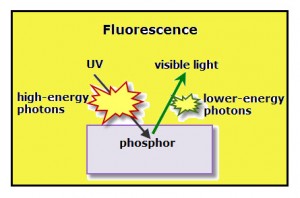 Question: What causes some objects to glow under a black light?
Black lights give off  Ultraviolet A light, which is a type of high-energy invisible light (radiation). Photons are packets of light energy. UV light photons have a higher energy than do the photons for visible light.
Materials that glow under a black light contain a type of chemical called a phosphor. When phosphors absorb UV photons,  some of the electrons in the atoms making up the phosphor  become energized or excited. This means that the electrons move further way from the nucleus.
FACT: The UV light energy is called the excitation energy because it causes the electrons to be excited.
When energized electrons release the absorbed excitation energy, they return to their normal position, called ground state. Photons of visible light make up part of the released energy. The color of light emitted depends on the  energy of the released photons.
The amount of time it takes excited electrons to lose the excitation energy depends on the type of phosphor being excited. Phosphors that only release glow while the excitation energy is being received are said to be fluorescent.
The glow from a phosphor after absorbing hight energy UV photons is an example of photoluminescence. WOW! That is a big word, but it is actually easy and certainly fun to experiment with. Let's take the word apart:
photo is a prefix for light
luminescence is any cold light–light from something that is not hot, such as fireflies or glow sticks.
OK, if we put the word parts back together we have a cold light—photoluminescence.

For more fun with fluorescence, see Spy Pen With Invisible Ink.