How Flies Eat
Some insects, such as flies, have a mouth part that soaks up liquid in much the same way that the sponge soaked up the water. This mouth part is called a proboscis.
All of the food that flies eat is not in liquid form. To liquefy solid foods, flies regurgitate (vomit) on the solid food. The vomit contains digestive juices which quickly digests (break into smaller parts) part of the solid food and the juices mix with these small parts. In this form, the fly can use the end of its proboscis to soak up the now liquefied food.
As shown in the diagram, the tip of a fly's proboscis acts much like a sponge, soaking up liquids. thus  with the spongy end of its proboscis, soaking up the liquid.
The liquid food moves through the proboscis into the insect's body where it is further digested. The nutrients from the food are used by the fly's cells and waste is excreted when and where the fly has a need to poop. Tiny dots can be found on surfaces where flies frequently visit. These are fecal spots –yes, when a fly lands on the food you plan to eat, the fly may be vomiting and pooping on the food.
Flies are attracted to rotting food and animal feces,  thus if the fly's last meal was dog feces, some of this partially digested feces along with bacteria would be vomited on your food.  This is one way that flies harmful bacteria to your food. Another way of transferring bacteria is on the sticky hair on their feet.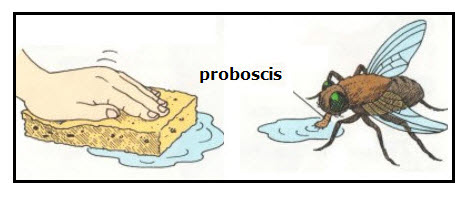 Use a sponge to demonstrate how a fly's proboscis compares to a sponge, in that they both are able to absorb liquids.
Material
spoon
tap water
dish-washing sponge
paper towels
Procedure
1. Pour three spoons of water on a table.
2. Place the sponge on the water. Move the sponge around until as much of the water as possible has been removed from the table. Use the paper towels to dry any remaining water from the table.
Results
Most of the water is soaked up by the sponge.