What Does A Structural Engineer Do?
Structural engineering is a branch of engineering concerned with the design and construction of all types of structures, such as bridges, buildings, dams, tunnels, power plants, offshore drilling platforms, and space satellites.
The art shown is part of a series of paintings by Amanda Hamilton called "Neighbours." Such dream-like structures on canvas is considered artistic and maybe a bit quirky.
But, converging and convex shapes of the houses would would be a nightmare for a structural engineer.
Structural engineers research the forces that affect a structure, then develop a design that allows the structure to withstand these forces.
A force is a push or pull on an object. The two basic forces on a structure are:
lateral forces are  directed at the side of a structure, such as wind, earthquakes, and explosions.
vertical forces are directed up or down on a structure. Gravity provides the predominate vertical force.
Gravity pulls everything down, which is toward the center of Earth. The weight of an object is the measure of the force of gravity acting on it.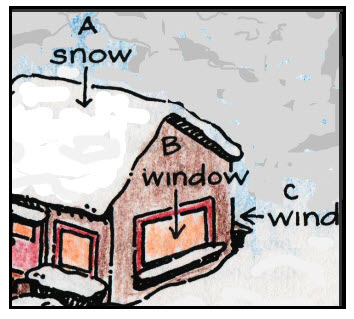 In the diagram, force A, represents the weight of the snow pushing down on the roof.
Force B, represents the weight of the window, also pushing down.
Force C represents the lateral force of the wind on the house.
Engineers know that the strength of a material can be increased or decreased by changing the shape of the material.
Changing the shape of a sheet of copy paper can greatly increase its strength.
Find out for yourself: see PAPER BRIDGES