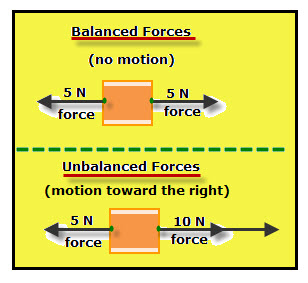 Have you ever played tug-of-war?
Was there an oozing mud puddle separating the two teams?
If so, the people at the ends of the rope wanted to win by pulling the other team into the mud, but not at much as the people next to the mud puddle. It will be these people that fall into the mud if their team loses.
When the two teams pulled with equal force in opposite direction, their forces were balanced. Like the diagram with the arrows showing 5 newtons of force pulling in opposite directions on the orange box.
If the forces pulling on the box are equal, the box remains stationary–no motion.The same thing is true with tug-of-war.
The second diagram shows a net force toward the right. A net force is what is left after the forces in all the directions are considered. The 5 newton force to the left balances 5 newtons of the 10 newton force to the right. So, the net force is 5 newtons to the right.
A net force requires unbalanced forces. Do you have any example for balanced and unbalanced forces? Please leave a comment on this page, or send your ideas to me at:  ASKVANCLEAVE@aol.com