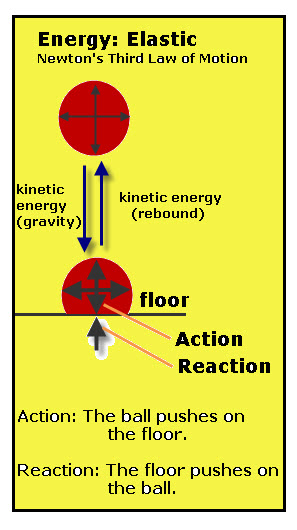 Question: Why does a basketball bounce?
Answer:
Let's assume that the ball is dropped, so that the only force on the ball is gravity. All moving objects have kinetic energy. When the ball strikes the floor, the  part of the ball against the surface is flat, and the space inside the ball is smaller, which causes the air inside to be  compressed (squeezed together).
NOTE: At some point in the collision with the floor, the ball stops moving, and for a fraction of a second the ball is stationary. The kinetic energy of the moving ball is now stored in the compressed air. Stored energy is called potential energy. This potential energy can also be called elastic potential energy, which potential energy stored as a result of deformation of an elastic object, such as the ball.
For more enriched information, see ELASTIC POTENTIAL ENERGY.

The ball pushes on the floor and the floor responds by pushing back on the ball with an equal amount of force. While the ball and the floor push with equal forces, very little of the energy is transferred. Some of the initial energy of the ball is transferred into other kinds of energy during the collision, such as sound and heat.
The push the ball receives from the floor causes it to rebound, meaning it bounces up. The moving ball again has kinetic energy.
This is an example of Newton's Third Law of Motion: Action/Reaction.
Every action/reaction example can be describe by reversible statements. The statements for the rebounding of the basketball are:
The ball is pushing against the floor.
The floor is pushing against the ball.