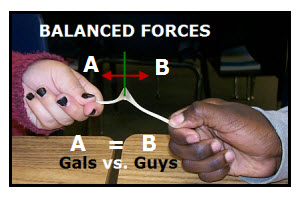 Gals vs. Guys
Do guys have the advantage in a wishbone breaking contest?
This is a good science discovery question, but one that is difficult to investigate, after all turkey's only have one wishbone.
Photo by Cherita Lueck, elementary science facilitator.
Lack of wishbones has been solved by The Lucky Break Wishbone Company. This company makes great replicas of  turkey wishbones. The wishbone in the photo is a Lucky Break Wishbone. For a 10% discount through Dec. 2010, call your order in and tell the operator that Janice VanCleave sent you. Now is that cool or what? Click the logo for info.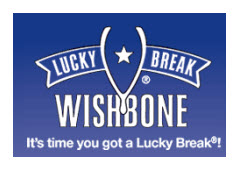 Wishbone Breaking Contest Rules
1. The wishbone is to remain relatively stationary. This means the center of the wishbone should remain over a starting line, the crack between the two desks is the starting line in the photo.
2. Each person holds the end of one of the wishbone "legs." (It looks like the gal may  be holding in the wrong place.)
3. Each person pulls out on the wishbone "leg."The objective of the contest is for one wishbone "leg" to break.
The winner of the contest is the person that has the shortest piece, or is it the longest piece? My family seemed to change the rules each time the wishbone was broken. Make a decision before you start the contest.
Since the wishbone is to remain relatively stationary, each person must apply the same amount of force in opposite directions. These are called balanced forces.

Characteristics of Balanced Forces, such as the A and B forces in the photo:
balanced forces are always equal
balanced forces are always in opposite directions
balanced forces are always applied to the same object
balanced forces never change the objects state of motion.
It is not the balanced forces that break the wishbone. You have to do more investigating. Check out the other wishbone articles on this web site.