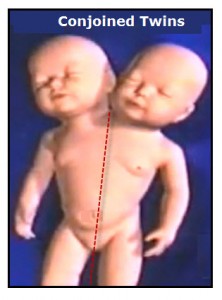 Conjoined Twins are identical twins formed when the zygote splits but does not fully separate.
Conjoined twins are classified according to the place on the body where the twins are connected.
The model of the conjoined twins shown has two heads and one body. These twins are classified as dicephalus conjoined twins (twins with two heads and one body).
Conjoined twins born alive do not always survive long. Of course their chance for survival depends on the development of their vital organs.
The dicephalus conjoined twins model represents a very extraordinary set of twins. These are the Hensel twins and they are very special in many ways: Scientifically, they are the only known dicephalus twins that have two sets of organs from about their belly button upward. At 19 years old at the time of this writing, the girls are healthy and very active.
Abigail and Brittany (left to right) are two very different people. Each have their own special personality.
My first introduction to these girls was on a science TV program. I admit that I w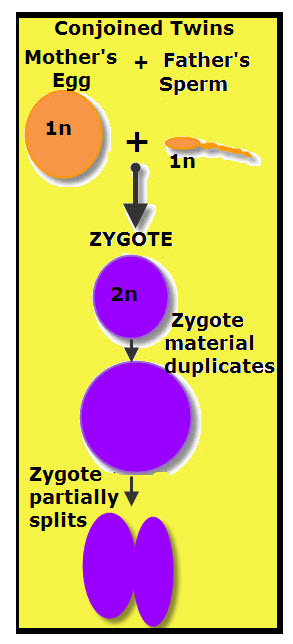 as shocked when I saw them. I'd never seen anyone with two heads, so I was naturally a bit startled. But by the end of the one hour program, I discovered that I was no longer watching out of curiosity because they were conjoined but because I was interested in the girls.I found myself looking directly at the girls as they spoke as I would if two separate people were on the screen.
As I find out more about these twins the more I feel connected to them. Its almost as if I really know them. I gave some thought to writing about them because I don't want to present them as what some would consider "freaks." Not so. In fact, they are a real delight and I know you will find them as witty, cute, and interesting as I do.
I am including the diagram of how conjoined twins form. When the Hansel twins are asked how they got the way they are, their answer is,
"This is how God made us."
Use Discount Code–

AFF20

—-to save 20% on Purchases.
The video gives bits and pieces of the girls' life.