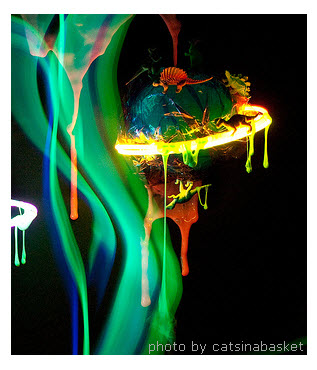 Fluorescent materials glow only during the time of exposure to ultraviolet light. In the photo, the glowing materials are absorbing ultraviolet light from a black light source. If the black light shining on the slime is shut off, the slime ceases to glow.
You can make glowing homemade slime using the liquid in a fluorescent highlight marker. Note: This liquid can stain your skin, so wear gloves and don't get the slime on furniture or other things that might be stained by ink.
Ask an adult to break open a fluorescent highlighter, such as one that is yellow. The stick containing the yellow ink needs to be removed and placed in a jar with 1 cup of water. Seal the jar with a lid and shake the jar periodically for 30 minutes or more. Use the colored water to make the glue solution when making slime. Any excess colored water can be used for making more slime now or later. Be sure to label the jar so that you will know its content.