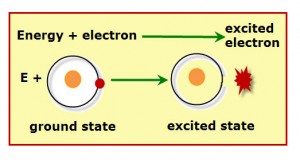 Light is a form of energy, and energy is neither created nor destroyed. Instead, energy can change from one type to another.This means that another type of energy is transformed into visible light.
Regardless of the source of energy, light is produced in basically two steps:
1. An atom's electron absorbs energy and becomes energized, or excited. When this happens, the excited electron moves from its ground state (normal position around the nucleus) to an excited state (position farther from the nucleus.

2. The excited electron emits the energizing energy as photons of visible light. The bow de-energized electron returns to is ground state, which is its normal distance from the nucleus.
For the light production to be continuous instead of just a light flash, the energizing source of energy must be continuous.
If heat is the original source of energizing energy, the light produced is called incandescent light.
If the original energy source is not heat, then the light produced is called luminescent light, also called "cold light."