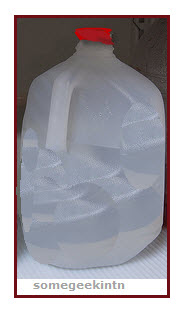 A hypothesis is something that everyone gives multiple times each day, but few people can explain what a hypothesis is.
Hypotheses are often called "educated guesses." This means that you have enough experiences and knowledge to figure out the answer to a problem.
A hypothesis can also be defined as a prediction about the outcome of an experiment.
Hypotheses can be an educated guess about why you think something happened. For example, the following story is true. I am the one who found the water bottle.
The Mystery of the Disappearing Water
I purchases a gallon of distilled water to use for chemistry experiments. The plastic bottle was full of water and was sealed when I stored the bottle. A week or so later, I noticed water on the floor around the bottle. Further inspection revealed that the water jug was still sealed, slightly crushed in, and only half-full of water.
Questions/Hypothesis
Question: Since the bottle was sealed, I wondered how the water got out of the bottle.
Hypothesis: I guessed that the bottle must have a hole in it.
Experiment: I picked the bottle up and a small stream of water poured out a tiny hole in the bottom of the bottle.
Question: Why didn't all of the water drain out of the bottle?
Clue: There was a change in weather.

For information about weather, see WEATHER
Let me know your hypothesis, and how you tested it. If possible, send pictures of your investigation to: ASK JANICE