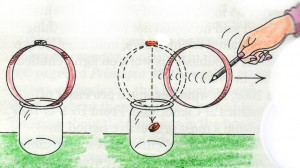 Newton's First Law of Motion is about inertia.
Inertia is a physical property used to describe how difficult it is to move a stationary object or to stop a moving object.
The greater the inertia of an object, the harder it is to move it when it is stationary, and the harder it is to stop it when it is moving.
Inertia increases with mass.
You can use inertia to perform a "science magic trick." The objective of the trick will be to move something from beneath and object without moving the object. This is much like the magic trick of quickly pulling a tablecloth off a table leaving all the dishes in place.
Start with a less complicated trick. Make a loop using a 1-by-24-inch (1.25-by-600-cm) strip of poster board. Secure the ends of the paper with tape to form the loop. Set the loop on a quart (1 liter) jar. Place a penny on top of the loop directly above the center of the jar's mouth. Sweep the end of the pencil past one side of the loop and strike the inside of the opposite side so that the pencil carries the loop away and the coin drops in the jar.
You may need to practice a few times before performing this trick. It is important that you hit the loop and so that it moves in a horizontal (parallel with the table) direction.
Results: If the loop is hit properly, the coin falls straight into the glass and the loop flies away. If hit improperly, the coin falls outside the jar.
Why? Your pencil applies force to the loop, moving it forward. The loop quickly moves out from under the coin and the coin falls straight down due to the pull of gravity. If you do not hit the loop straight forward and/or you do not hit the loop with enough force, the loop pulls the bottom of the coin forward. If the forward motion of the coin carries the coin past the jar's opening, the coin will fall outside the jar.
NOTICE: If the trick doesn't work. Explain that you must have forgotten to MAGITIZE the coin. Say a few magic words and tap the coin with your magic wand.
As always– the Magic words and wand are just for fun!!!! The science behind the "magic" should always be presented.
—————————————————————–
More about Inertia:
Objects in motion also have inertia. The greater the mass of the object, the more inertia it has, thus the harder it is to stop the moving object.

If you throw a ball, the ball would continue to move at a constant velocity unless a force acts on it.
Forces acting on the ball after it is released from your hand include, gravity and friction between the ball and the air it moves through.
You can find more ideas about inertia and other fun physics investigations in this book: