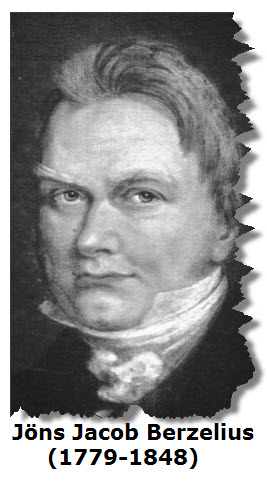 Jöns Joseph Berzelius
Berzelius studied many different branches of chemistry and is credited with originating these chemical terms:  catalysis, polymer, isomer and allotrope. But, his definitions of these terms is very different from that given today.
He discovered three chemical elements-cerium, selenium, and thorium-and was the first to isolate the elements  silicon, zirconium, and titanium.
Jon Berzelius introduced a system of chemical symbols, in which each element was represented by one or two letters of the alphabet—such as O for oxygen, or Fe for iron.  He used numbers to represent the  proportions of elements in a chemical formula. This is basically the same system used today, except that Berzelius used superscript numbers (H2O) instead of
the subscript numbers (H2O) used today.
Berzelius also disproved the idea that each element is made from atoms of hydrogen.
Photo from Wikipedia.