Question: What and where is Earth's Magnetosphere?


Answer:
The Earth has a magnetic field surrounding it with properties much like those of the area surrounding a bar magnet.
The photo below shows iron filings tracing out the bar magnet's lines of the magnetic force. The drawing to the right shows lines for Earth's magnetic field. No, Earth doesn't really have a giant bar magnet inside, but the core of the Earth has magnetic properties that result in a magnetic field as if a bar magnet was present.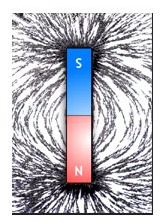 The Earth's magnet field extend far into space. The outer part of this magnetic field facing the Sun is bombarded by charged particles in the solar winds. Most of these particles are deflects back into space, but some of the charged particles are absorbed by the magnetic fields and some are deflected toward Earth's Magnetic Poles.The solar charged particles that enter Earth's polar atmosphere cause magnetic storms and auroras.
Because of the charged particles in solar winds, the outer area of Earth's magnetic field is bullet shaped, with area facing the Sun rounded and pushed close to Earth. Oh the opposite side of Earth this magnetic field is repelled by the charged solar particles and extends hundreds of thousands of kilometers into space.
For more information about Earth's magnetic field and its outer boundary that protects Earth from the charged particles in solar winds:  see CARSIMA: The  Earth's Magnetic Field.
Discover A Magnet's Magnetic Field for Yourself
1. An easy way to investigate magnetic fields is to use the iron filings encased in plastic. These can be purchased at: Iron Filings in Plastic Case.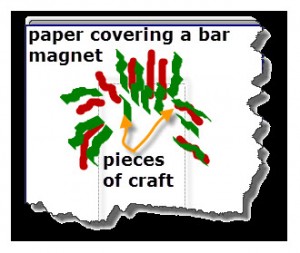 2. A Crafty Way to Discover the Shape of a Magnetic Field
Cover a bar magnet with a sheet of copy paper.
Cut pieces about 1 inch long from colored craft stems. You need about 20 or more pieces.
Scatter the pieces of craft stems on the paper above the magnet.  Each stems should stand on one end with the opposite end pointing in the direction of the magnet's magnetic field.
If any of the stems lay flat, reposition them so that they stand on one end.
One could call Earth's magnetic field a geomagnet.