The difference between mass and weight is often difficult to explain.
I have created two diagrams that I think will help.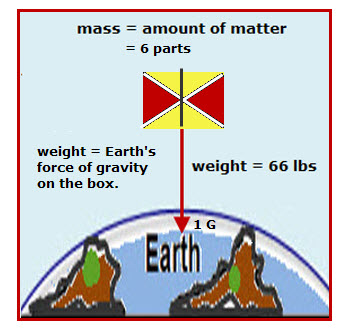 First, let's compare the mass and the weight of a box on Earth. Since mass is defined as the amount of matter that something is made up, I decided to identify the amount of mass as the number of parts in the box–6 parts.
Weight is a measure of the amount of gravity pulling on the box. Notice that in the diagram the G-force on the box is 1 G.
FYI: Yesterday, I discussed the difference between gravity and weight and explained G-forces. See the sidebar for this post.
The weight of the box on Earth is measured at 66 pounds.
Let's pretend that I  snapped my fingers and sent the box to the Moon. Of course, I have helpers there who  measured the weight of the box, and it weighs 11 pounds.The weight of the box has decreased because the G-force acting on it is 1/6 G. This means that the  Moon's force of gravity is 1/6th as much as Earth's force of gravity.
The diagram shows that the transfer from Eart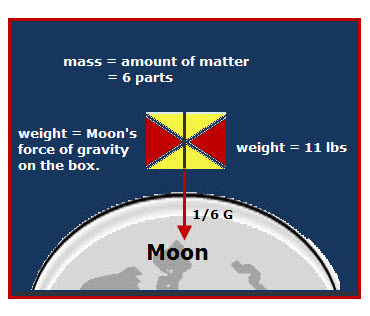 h to the Moon did not affect the box's size, shape or composition. This means that the mass of the box did not change, but the weight decreased. UUM! To lose weight, I just need to send myself to the Moon for all weight measurements. The only problem is that while my weight would be less on the Moon, my body mass (size, shape, and number of particles) would be the same. My jeans that are too small on Earth would still be too small on the Moon. Guess I will just remain on Earth and work on decreasing my body mass.