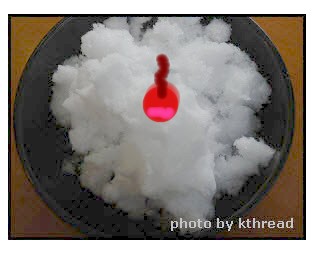 1. I am always amazed when a person announces that they don't like science, and chemistry was not their favorite class in school. The problem is that they just don't see the whole picture. Fist of all, chemistry is about everything that most people love and enjoy way too often–FOOD!
Let's have a bit of fun –actually we can play and find out more about science.  If you are in an area where it snows, collect a bowlful. Add a little milk, vanilla, and sweetener. Stir. Add a cherry on top and VOILA'  You have a bowlful of delicious snow ice cream.
Generally, central Texas doesn't get snow but this year we got 8 inches of the beautiful stuff. What a treat for us–But, the weather prediction was for warmer temperatures the next day. So there was a scurry to make snowmen and take pictures as well as to make delicious bowls of snow ice cream.
If it never snows where you live, I'll add a post tomorrow giving the science of smoothies! Being diabetic, homemade smoothies allow me to join in when my family is having an ice cream celebration.
Now back to the chemistry of snow ice cream.
1. When you combine two or more things you have a mixture.
2. If two or more materials blend together so that the mixture is the same through out you have a solution.
Your homemade snow ice cream is a mixture of snow, milk, vanilla, and sweetener (sugar). The different parts of this mixture blend so that some dissolve in the other. UMM! This sounds too sciency!  How about saying the snow, vanilla, and sugar dissolve in the milk. The milk is called the solvent and the snow, vanilla, and sweetener are solutes.
The next time you bake a cake or mix stuff together, see if your kids can identify the mix as a mixture, and tell if it is a solution. If so, which of the parts are solvents and which is the solvent.
See, I told you chemistry was fun!