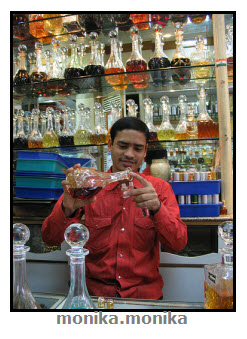 Question: What is the difference between perfume and cologne?
Answer:
First: The word perfume is commonly used to mean a substance that smells good and is used to make other things smell good. But "real" perfume —uum! instead of calling it real perfume, lets use the French word Parfum.
Second: In reference to perfumes, the term juice refers to scented oils.
Parfum has more "juice" than do colognes. This means that perfums have more scented oils to evaporate than do colognes.
Following are different kinds of perfume depending on the concentration of their juice:
Perfume (parfum) has the highest "juice" concentration.
Eau de Parfum (EDP) has a medium "juice" concentration
Eau de Toilette (EDT) and Eau de Cologne (EDC) have about the same "juice" concentration, and are the lowest in "juice" concentration.
The higher the concentration of "juice" the longer your fragrance will last, thus the the less you need to apply.