Chemistry is such a fun course and so applicable to daily living.
I've been thinking about an interesting way for kids of all ages to learn more about chemistry.
One of the most important chemistry learning tool is the periodic table. So, I have designed an activity that introduces some of the elements on the periodic chart.
Activity:
Purpose: Using the periodic table coordinates for an element, locate the element's symbol on the periodic table.

Prepare Materials:
Using 36 index cards, write the name and location code of the elements in the list–one element per card.  Potassium (1, 4) is shown as an example.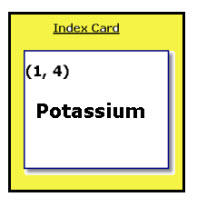 1. Stack the 36 element cards, face down.
2. One at a time, turn over the top card and  read the name of the element.
3. Using the location code (periodic table coordinate), find the symbol for the element on a periodic table.
The First Number identifies the column (vertical group) that the element is in.
The Second Number identifies the row (horizontal period) the element is in.
Note: Any periodic table that has the groups numbered from 1 to 18 will work. But, this online periodic table sounds out the names of each element.
Click on the symbol and you will hear the name of the symbol. Is that Cool or What!
4. When you find the symbol for an element, print it on the back of the element card. Now you have the name of the elements on one side of the cards and the symbol for each element on the opposite side.
Note: Some of the symbols match the name of the elements, such a H for hydrogen and O for oxygen. But other symbols, such as Fe for iron and Na for sodium do not seem to fit. It make sense when you know that the Latin names for these elements are ferrium for iron and natrium for sodium.