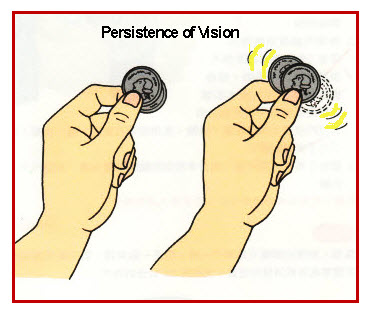 Question: What is persistence of vision?
Answer: The retention of an image on the retina after the object has moved.

Discover for Yourself:
1. Hold two identical coins together between your thumb and index finger. (One coin on top of the other.)
2. Quickly rub the coins against each other so that they slide back and forth. Observe the coins and count the number of coins that you see.
Summary
When you look at an object, an image of the object is projected on the retina ( back inner wall) of your eyes. Even if the object is moved or removed, its image its image remains on the retina for a fraction of a second. This is called persistence of vision. Thus an extra coin seems to appear.