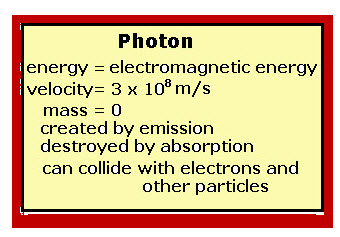 Question: What is a Photon?
Answer:
Electromagnetic radiation is a form of energy that is released by an atom. This energy is made up of many small particle-like packets that have energy and momentum but no mass. These particles, called photons, are the most basic units of electromagnetic radiation.
Electromagnetic radiation is often referred to as light even though only a small part of this energy is visible light. Obviously visible light is electromagnetic radiation that stimulate nerves in your eyes resulting in visual perceptions.
Gamma rays, x-rays, Ultraviolet Light, VISIBLE LIGHT, infrared rays, microwaves, and radio waves are all wavelike forms of electromagnetic energy carried by particles called photons. Differences between each type of electromagnetic energy includes the energy of their photons and the length of their wavelengths. The diagrams compares the wavelength and photon energy of the different kinds of electromagnetic radiation. Notice that the shorter the wavelength the higher is the photon energy.