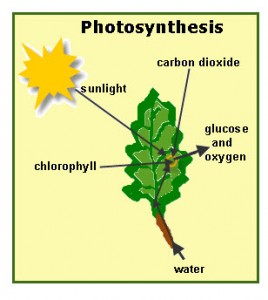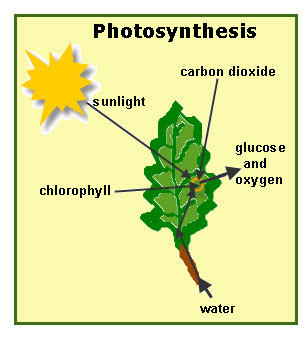 Photosynthesis is a plant process by which light energy is changed unto to chemical energy. Most plant receive light from the Sun. The chemical energy produced is stored in the bonds of sugar molecules. Plants need only light energy, chlorophyll, CO2, and H2O to make sugar and oxygen. The process of photosynthesis takes place in a part of plant cells called chloroplasts. The chloroplasts contains chlorophyll, which is a green pigment that absorbs light energy needed for the chemical reaction to take place.
The overall chemical reaction involved in photosynthesis is:
6CO2 + 6H2O + light energy
C6H12O6 + 6O2
This is chemical equation is read as:
six parts carbon dioxide plus six parts water plus light energy produces glucose plus six parts oxygen
Note: Often chlorophyll is written above the arrow to indicate its presence but that it is not part of the reaction.
Since photosynthesis is a source of the oxygen that we breathe, plants are very important to us. This is why it is important for companies who harvest trees for lumber to replant in the area where trees are removed.