Both animal and plant cells are eukaryotic cells (cells that contain a nucleus).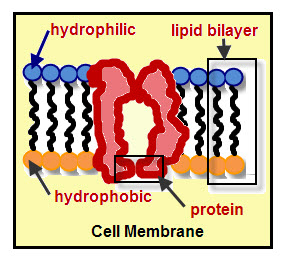 All eukaryotic cells are surrounded by a plasma membrane. This membrane is also called the cell membrane.
The plasma membrane is much like a thin plastic  sack with tiny hole. This membrane sack contains all the cell parts and fluids.
Since there are holes in the membrane,can stuff leak out? Can stuff go into the cell through these holes?
The answer is yes and no.
Yes, stuff passes in and out of the cell through the holes in the plasma membrane.
No, stuff doesn't leak out of the cell, nor can just anything pass into the cell through the holes.
A plasma membrane is a semipermeable membrane. This means that only certain things can pass through. For more information, see MEMBRANE FUNCTION

Human Body