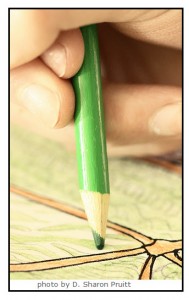 Project data is all the information recorded from the start of your project to its finish.
Experimental Data is the results of the project experiment. This data includes observations made during the testing.
The two types of observations are:
1. Quantitative Observation is a description of the amount of something. Measuring tools, such as a rule, balance, and clock are used to measure quantities or to describe the amount of the property being observed, such as length, weight, or time.
2. Qualitative Observation is a description of the physical properties of something, including how it looks, sounds, feels, smells, and/or tastes. Words are used in a qualitative description. Qualitative observations are those made with your five senses: sight (eyes), hearing (ears), touch (fingers and any part of your skin), smell (nose), and taste (taste buds in mouth). Tools that help your senses include, magnifying lenses,microscopes, and telescopes.
How to Record Data
One way to record data is with a table, such as the one shown below.
FYI: The experiment is testing whether seedlings grown from large seeds grow faster than seedlings grown from small seeds. Observations start when the first sign that the seedling is breaking through the surface of the soil. One way to record the observations is to have a table for each type of seed. The table shown is for seedling #1.
Notice that only word descriptions are given. When possible, drawings and even photographs of test results should be part of the data collected.
Growth of Bean Seedling #1

Date

Observations

June 1

It looks like the plant is trying to break out of the soil.

June 2

The plant is out of the soil. The top is kinds hooked shaped.

June 3

The plant is almost 1/2 inch tall.

June 4

I don't see any change.

June 5–etc

FYI: The table continues to grow as more observations are recorded.