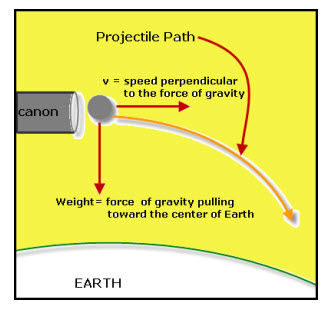 Question: A satellite is a projectile that is constantly falling towards the Earth. Why doesn't it fall into the Earth?Answer: First of all, I need to show you the shape of a projectile's path. Example: In the diagram, the cannon ball is shot horizontal with Earth's surface. The force of gravity acting on the ball is vertical (any line from Earth's center to its surface. the ball.
For simplicity, let's assume that nothing is restricting the movement of the ball, such as air resistance. If this is true, then once the ball is fired from the cannon, the only force acting on the ball is gravity.When a force is applied to an object it causes the object to accelerate (change is velocity). The acceleration due to the force of gravity is 9.8 m/s2
In the diagram below: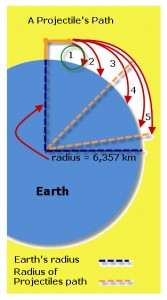 Path #1: The green circle shows the shape of the circle for the arc of this project's path. The radius of this circle is much less than is the radius of Earth. This path results in the projectile crashing into the Earth's surface.
Path # 2 –Path #4: The radius of the projected circular path for each of the projectiles also result in their crashing into the Earth's surface. Again, this is because the radius of each path is less than the radius of Earth.
Path #5: The arc for path #5 produces a curved path that extends around Earth. This is due to the fact that the radius of path # 5 is greater than is the radius of Earth.
Discover For Yourself
I am a visual learner, so to have a better mental picture of what is going on with each of these satellite paths, I designed an activity. For instructions, see