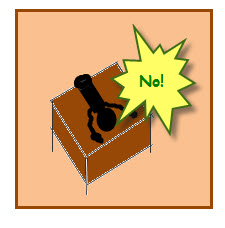 Many parents work and do not respond positively to the news that their child must do a science fair project. Often this is because they are not sure what their child must do let alone how to help them. Too often this is because they become aware of the due date for the project a few days in advance or even the night before.
Parents need to know exactly what their child is suppose to do. They need to understand why an overnight experiment or preparing a poster is not a science fair project.
One way to help prepare parents so that parents can have fun helping their child is to teach children how to develop a science project via a class project.
Class Project: This is a science project that is developed as a group project. The objective is to study each necessary step needed to design and develop individual science projects. Homework assignments can be given that require the help of a parent.
If each teacher has a class project, then if possible schedule a Science Night for Parents. This would be a time of showing off the class science projects as well as giving information to parents about individual projects that will be started soon.
At the Science Night for Parents, proud children will have the opportunity to describe their class project to their parents. Teachers can use this opportunity to communicate directly with parents about the upcoming individual science fair projects. At this time parents can be given information sheet about due dates and any other information parents need to know. A separate sheet with a bird's eye view of how to develop a project will be helpful. Also, the information can be posted on the school web site.