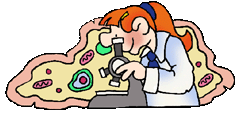 Question: What do scientists do to learn about the natural world?
Answers:

Scientists do their work in many different ways. Sometimes they work by developing models that fit the facts. Models are only made after much research and experimenting has been done to give the scientists information about the topic being modeled.
Earth Scientists made models for long-term processes, such as fossilization.
Astronomers use models because the parts of the universe are just to large.
Biologists use models for microscopic organisms as well as microscopic parts of organisms.
Chemists use models to help understand the workings of matter.
Instead of a stationary model, scientists also model processes. In other words, a working demonstration or even an investigation can model a process.
For a model of how it was determined that atoms have particles in their nucleus, see  ATOMIC MODEL.