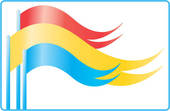 Following is a lessons prepared for a pre-K class. It can be adapted for any age group.
——————————————————————————-
This lesson uses the mixing of primary colors to teach how the five senses are used to make observations. Hypothesis, called guesses for young learners, will be made and testing done to determine if the hypothesis is correct.
Objective:
1. To Make Observations using the Five Senses: sight, hearing, smelling, touching, and tasting.
2. To Make Hypothesis (Guesses).
3. To Test the Hypothesis.
Materials
white pre-made cake icing
quart-size resealable plastic bags
food coloring: red, blue, yellow
teaspoon
scissors
Prepare Materials
1. Prepare one bag of cake icing for each child.
FYI: Try to get as much air out of the bag as possible. Then kids squeeze the bags the heat from their hands heat of the air in the bag. The heated gas expands and blows up the bag. Quart-size bags work better than sandwich size because of the expanding air inside.
Put 1 heaping teaspoon of white icing in each bag. Try to get the icing near one of the bottom corners of the bag.
Use the spoon to make a hole in the icing.
Add two drops of food coloring in the hole. Use two different colors. Squeeze the bag to close the hole in the icing and seal the coloring in.
Possible color combinations are
Red + Blue = (Purple)
Red + Yellow = (Orange)
Blue + Yellow = (Green)
Test these combinations to make sure that two drops will produce good colors.
2. Prepare five bags of colored icing
Three bags of icing-1 – Red, 1-Blue, 1- Yellow
Three bags of colored icing-1-Orange, 1-Green, 1-Purple.
These will be used to spread on the graham crackers at the end of the lesson. You need the icing at one corner of the bottom of the bag. The tip of the corner will be cut off when you are ready to squirt the icing on the crackers-see picture below.
Lesson
Introduction:
Scientists make observations; this means that they use their eyes, ears, nose, fingers, and mouth to find out about the world around them. Today we are going to use our eyes, ears, nose, fingers, and mouth to find out about colors.
1. Say: "First you will be given a plastic bag. The bag is closed and you must not open it. Leave the bag laying on your table until I give you instructions. "
Say: "You are using your EARS to find out what to do.
—————————————————————————————————————————————–
[With adult assistance, lay one of the bags of icing on the table in front of each child.]
ADULT HELPERS: After PASSING out the bags, your adult helpers can prepare the plates of colored icing. Show them an example, which will be a plate with three blobs of icing on one side. Icing is red, blue, yellow.
Adult Helpers can squeeze these from the large bags of colored icing.

Squeeze the colored icing to one of the bottom corners of the bag.

2. Use scissors to cut off the tip of the corner.
3. Squeeze blobs of orange, green, and purple icing on graham crackers.
———————————————————————————————————————————————-
2. Say: "There is something inside each of the bags."
Say: "Leave the bag lying on the table and use your EYES to look closely at what is inside the bag."
Say: "Raise your hand if you can tell me what the stuff inside the bag looks like."
[Let a couple kids describe the bag's contents. Be sure to praise them for their description.]
3. Say: "Now I want you to use your FINGERS to decide how the stuff in the bag feels. Leave the bag laying on the table and use your pointing finger to gently push on the bag to see how the stuff feels."
Say: "Is it hard? Is it soft?"
4. Say: "Now you are going to use your FINGERS to do an experiment."
Say:" Pick up the bag and without opening THE BAG, squeeze the stuff in the bag by squeezing the bag."
Say: "Pick up your bags now and gently squeeze them."
[There will be quick changes in color-be surprised-WOW! How did that Happen? Why are there different colors? Point out the different colors.
[Once the colors have been formed—DON'T LET THEM GET RESTLESS-Tell them to lay the bags on their desk and to use their EARS to listen to you.]
5. Say: "Do the bags have MAGIC STUFF inside?" (NO!!!) Remind them that sometimes things look like magic but Ms. Kim's magic is always about science.
6. Say: "When I prepared the bags, I used white cake icing and food coloring." [You might bring an empty icing container with its label so they can see it. Also have food coloring container.]
Say: "I only used red, blue, and yellow colors." "I put drops of food coloring in each bag." You are going to find out which colors I used in each bag."
7. Do: Hold up a bag with purple icing in it. You can have this ready or use one of the bags the kids squeezed to produce this color.
SAY: "I am going to GUESS that this purple color is made by mixing blue and yellow food coloring." What do you think, is my GUESS correct?"
[Some or all may say yes, some no. You want to make the point that as scientist they are to never say yes or no to a guess.]
8. Say: "The correct answer is MAYBE." "If I am GUESSING we have to experiment to find out if my guess is correct."
9. Say: "Let's do it again—–"My GUESS is that mixing blue and yellow makes a purple color." "Is my GUESS correct?" [You may have to encourage them—the answer is maybe.]
10. Say: "Are you scientist?" [All should answer YES!!!]
11. Say:"Scientists find answer by experimenting." "So you need to find the answer to my question by experimenting."
12. Say:" We are going to give you plates with colored stuff on it. You will use a craft stick to dip a little of the blue stuff in your plate. Put it on a clean part of the plate. Then dip some yellow and mix the two colors together. "
[You need to hold up a plate as you spread a little blue icing on it. Then put some yellow icing on top of the blue—DON'T MIX-You want the kids to see what happens when they do the mixing.]
[Adults will help you dispose of the bags of colored icing-throw them away.
Pass out the plates with three colors of icing-Red, Blue, Yellow.]
13. DO: Go around and make sure the kids are doing this correctly.
14. Say: "When you mix blue and yellow, what color do you get?" [GREEN]
15. Say: "Now that we have experimented, we can say that BLUE + YELLOW MAKES GREEN"
16. Say: "I am going to GUESS that red + blue will make purple." " What do you think, is my GUESS correct?" [Answer is suppose to be MAYBE, but some may have forgotten.]
17. Say: "You are scientists, so how can you find out?" [EXPERIMENT] Remind them how they experimented by mixing blue and yellow. Now they will experiment by mixing red and blue.
18. Say: "So far you have used your EYES, FINGERS and EARS. Now you are going to use your NOSE. Smell the stuff on your plate. What does it smell like? [Answers may very.]
19.Say:"Sometimes we it is hard to identify something. YOU NEVER—NEVER—NEVER-taste YOUR EXPERIMENTS unless your teacher or another adult tells you it is ok."
20. Say:"Today you have been experimenting with food coloring and white cake icing. You will get to taste the colored icing, but we will use icing that you can eat."
[Adults will help you trash the plates of icing and pass out clean plates with clean craft sticks. You may even want to have a baby wipe so kids can clean their hands. Pass out plates with graham crackers on them. The crackers can already have blobs of purple, green, and orange icing on them.]
21. Say: "Now you are going to use your TONGUE AND MOUTH to do a taste test. "My GUESS is that the purple icing takes like grape juice, the orange icing tastes like Orange Juice, and the green icing tastes like Lime juice or green jello." "What do you think? Are my GUESSES correct?" [Hopefully you get a loud MAYBE!!!]
Kids can use a clean craft stick to spread the icing over the surface of their cracker.
22. Summation:
Say: "Is there any difference in the taste of the icing?" [Shouldn't be, but appearance always makes one think that they taste something different.]
Say: "It looks like more experimenting will have to be done to make a definite decision." "Try another bite-the only difference is the food coloring and it suppose to taste like water."
23. DO: Clear the table by throwing the materials in a trash bag.
24. EXPLAIN ABOUT THE CARNATIONS AND LEAVE THEM FOR OBSERVATIONS DURING THE WEEK.
25. Explain: The class is part of a GAK Team—GET AHEAD KIDS. You can show them their membership certificate- Ms. Lemons can give them out at the end of class.
FYI: You can put info about your website in the red bags that they will get at the end of school.
Let me know if you need more info.