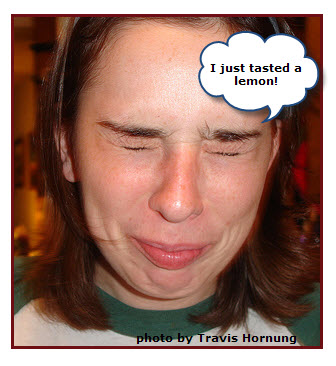 I love the taste of lemons. When I was a kid, one of my favorite things to do was to read comic books and eat lemons. Sometimes I ate rind and all.
I prepared each lemon by squeezing them so that the juice comes out easily. My technique for preparing my lemons was to place them on the floor and one at time I rolled them back and forth with my foot. I was careful not to push too hard and break the lemon open. Once the lemons were mush soft, I'd bite a hole in one end. Next I'd pour salt into the lemon, squish the lemon a bit to mix the salt with the lemon juice, and then I'd squeeze the salty lemon juice into my mouth. UUUM!!! After the last drop of juice was squeezed from the lemon, I'd break the lemon open and eat the meat. Sometime I ate the rind–it if was a good rind. I had my own criteria for determining a good rind from a bad one.
Did reading about lemon juice make your mouth pucker up?
If you had never tasted a lemon, you would have no reaction to reading about them. The young man in the photo has just taken a big bite out of a lemon. His facial expression tells us that it was not a pleasant experience. How a lemon tastes is now stored as a memory in his brain. Another memory stored will be the smell of the lemon as well as its texture.
Sour is one of four tastes that the taste buds on your tongue can identify. For more information about taste buds and taste, see TASTE BUDS