The Science and Engineering Fair is a contest with two specific types of entries:
1. Science Fair Projects: The scientific method is used when designing and developing a science project.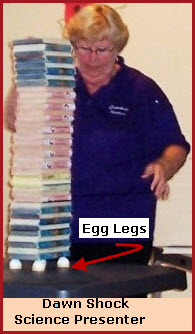 2. Engineer Fair Projects: The engineering method are entries into a contest
In the diagram, science presenter, Dawn Shock is demonstrating the strength of dome-shaped egg shells. The weight of the books pushing down on top of the domed-shaped eggs doesn't push straight down, instead, the weight is distributed outward along the curve of the egg. This is called force distribution.
The egg shell experiment provides research information that could be used in designing a science project or an engineering project. Discover for yourself :
Testing the Strength of Egg Shells
When deciding on developing a science project or an engineering project, first check out:
Scientific Method vs. Engineering Method
Next, study the criteria used to evaluate these two different kinds of projects:
How Science and Engineer Projects Are Evaluated.

Fun Fact: Thomas Alva Edison was a very precocious (unusual early development) child. One of his earliest experiments demonstrated his curiosity about the world around him. Tom saw a mother hen sitting on eggs and was told that she was keeping her eggs warm so that they would hatch. Being gone for a time, his sister was sent to find him. She discovered young Tom sitting on a nest of eggs. He was warming the eggs so that they would hatch.