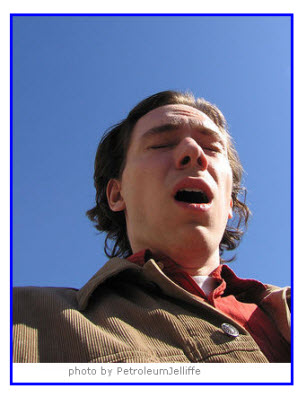 Sunlight always makes me sneeze. I haven't thought much about it and assumed that it happens to everyone. While researching the cause of sneezing, I found information about photic sneeze reflex (PSR).  What I thought was a common is a trait inherited by less than 35% of the population. To inherit the trait, at least one of your parents must have PSR. Not only is PSR inherited, but the number of times that you sneeze in response to light is also inherited.The man in the photo says he sneezes twice each time he walks into bright sunlight. It is so predictable that he was able to photograph the event.
It is cloudy today, but when the sun breaks through the clouds I'll be counting my sneezes.
CAUTION: NEVER! NEVER! LOOK DIRECTLY AT THE SUN. IT  COULD PERMANENTLY DAMAGE YOUR EYES.

PSR is caused by moving from a dim lighted area to a brightly lit area, such as driving out of a dark tunnel into the bright sunlight.
The exact reason that sunlight makes me sneeze remains unknown. But it is a condition that is being investigated, particularly by the military.
Question: Why is the military interested in PSR?
Answer:
When you sneeze you involuntarily close your eyes. There is never a good time to close your eyes when you are driving any kind of vehicle. The list of dangerous situations for pilots  experiencing PSR is extensive.
At this time, studies show that PSR is not triggered by specific wavelengths of light and thus cannot be controlled by wearing specific  filtering lenses. Flickering light doesn't induce PSR. No solutions or fixes are known at this time, but it is a problem that is getting more attention.