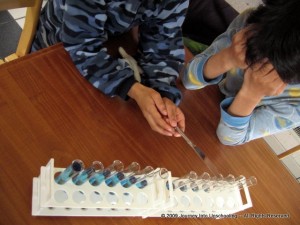 Sound is a form of energy produced by the vibrations (back and forth or to and fro motions) of a material.
Sound is energy that can be heard by the human ear. It takes energy to produce a sound.
For example, the test tubes shown in the photo are filled with different amounts of colored water. To start one of the tubes of water vibrating, the tube is taped with a writing pen.When the tube vibrates,  it pushes the air particles surrounding the tube causing them to vibrate–move back and forth.
All vibrating material causes the air surrounding it to vibrates. If these vibrations are not interpreted by the senses of some organism, the vibrations or just that–VIBRATIONS.  The job of some Engineers is to control sound energy.