In the diagram, the open  bottles are all the same, but there is a different amount of water in each. Tapping the bottles with a metal spoon produces a sound.
Sound is a form of wave energy that moves outward from the vibrating bottles.
Pitch is how high or low the sound is.
Pitch is determined by the frequency of a sound.
In the diagram below:
The frequency of Sound Wave A  is less than the frequency of Sound Wave B. (This is determined by the number of waves in the same time period.)
The pitch of Sound Wave A  is less than the pitch of Sound Wave B. (This is determined by the frequency of each sound.)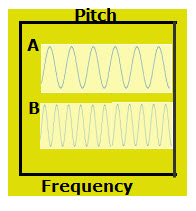 Question: Which bottle has the highest pitch, the bottle with the least amount of water or the bottle with the greatest amount of water?

Discover For Yourself
Use the same kind of bottles, such as empty glass soda bottles. Fill the bottles with different amounts of water. Using a metal spoon, tap the each bottle and compare the pitch of the sounds produced.
Just for Fun!
Try to tune the bottles by adding and subtracting water from the bottles so they can be used to produce notes of a song, such as "Mary Had a Little Lamb." You can color code the the water for specific notes. Since water evaporates, add a drop of cooking oil to each bottle. It will form a thin layer across the water's surface preventing evaporation. If the drop of oil changes the pitch of the sound, use a long eye dropper to remove just enough water to fine tune the bottle.