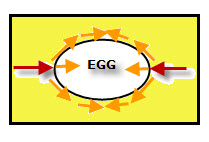 Testing the Strength of an Egg Shell
Eggs break easily when you hit them against a hard surface. But it's difficult to break an egg just by squeezing it length-wise in your hands. This is because of the dome shape of the eggshell. The force applied by your hand spreads over the eggshell. The diagram show a force applied to each end of an egg. The forces on the dome shape ends of the egg are dispersed (spread out), as represented by the yellow arrows.
In a similar way, when a bird sits on her eggs, the shape of the eggs helps to disperse the bird's weight (force).
Discover This for Yourself
Caution: Hands should be washed after handling raw eggs and especially if the egg breaks.
1. Hold a raw egg lengthwise in the palm of your hand so that one of the rounded ends points toward your fingers.
Note: Don't wear rings.
2. Hold your hand over a bowl. (This is just in case you are extra strong or there is a small crack in the eggshell and the egg breaks.)
3. Using only your hand that is holding egg, squeeze the egg as hard as you can. Unless you are very strong, the egg will not break.