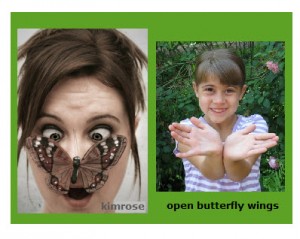 A symmetrical figure is an object that can be divided in half and each half is a mirror image of the other.
Your hands are mirror image of each other. This means that they are alike but in reverse.
Discover for Yourself
Place the palms of your hands together. Note how your fingers perfectly fit together.
With the heel of your hands held tightly, open your hands as shown in the picture. Your hands like the wings of the butterfly shown are mirror images of each other.
Challenge:
Look around and identify other symmetrical figures. What about your face? Is it really symmetrical?
Use Discount Code–

AFF20

—-to save 20% on Purchases.