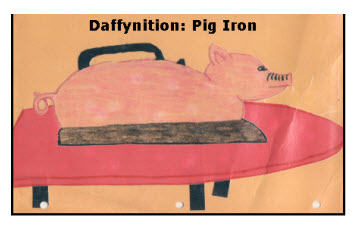 I am such a pack-rat. When I do get into a cleaning mode I tend not to throw anything away. Instead, I just put it into another box labeled–File These.
Basically I am transferring paper from an box with an old " FILE THESE" label  to a new box with a nice fresh FILE THESE label.
During a recent transfer, I found the pig picture shown. It was made by Kelly Walker,02/24/1983. WOW! The picture is almost 27 years old. UUM! I was teaching high school chemistry in Ft. Smith Arkansas at that time.  The assignment was for each student to create a daffynition, which is a fun picture that represented a science word or science topic.
I do wish  I had kept more of these fun pictures. But, maybe I did and one of my "Files These" boxes was mistaken for a throw-away box.
Please share your ideas for daffynitions with me.