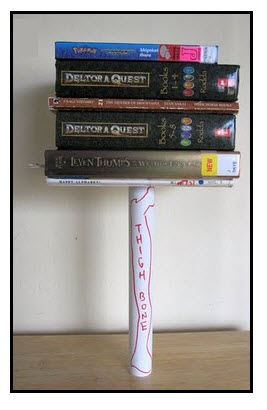 The long bone in your leg, called your thigh bone, is shaped much like the bone in a chicken's leg. Both have a hollow, cylinder-like shape, which means they are shaped like a tall soup can.This shape makes the leg bone lighter than it would be if it were solid throughout.
Discover For Yourself
The long, yet cylinder-like shape of the thigh  leg bone is strong.
Use a sheet of copy paper to make a model of a thigh bone.
1. Roll the paper into a tube, and then overlap the edges and securing with tape.
2. As shown in the photo, draw the shape of a thigh bone on the paper.
3. Test the strength of the paper thigh model  by standing the paper tube on a table, and then lay a book on top of the tube. Add more books to test the strength of the tube.

The photos shown on this page were taken by Amida, the webmaster of Unschool Me. Amida's sons prepared the bone model and performed the strength tests using books and even a stuffed elephant.
For more Fun from Amida, Zoo and Boo, see
Science Challenge
How many books will your paper thigh bone model support?