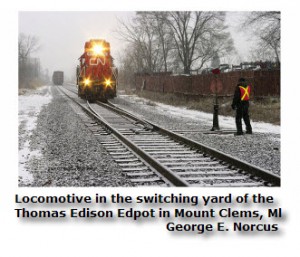 Thomas Alva Edison (1847-1931) was born in Milan, Ohio. He was the seventh and last child of Samuel Edison, Jr. and Nancy Elliot Edison. His mother was a former schoolteacher; his father had no specific training and was considered a jack-of-all-trades, meaning he could do many different kinds of jobs. When Thomas was seven, his family moved to Port Huron, Michigan.
Stories of Edison's childhood differ on the minor facts. But all of the stories agree that from an early age, Edison was very curious about the world around him and he tried to teach himself through reading, experimenting, and asking lots of questions.
Thomas quizzed everyone about everything. His endless questions annoyed his father, but his mother was much more patient. His first grade teacher also didn't appreciate Edison's questions. He preferred that students not interrupt him, and whipped those who did. The teacher called Edison addled, which means slow witted. The following day, Nancy Edison brought Thomas back to school to discuss this comment with his teacher. The teacher told Mrs. Edison that Thomas couldn't learn and Mrs. Edison became so angry that she took Thoma
s out of school and decided to teach him herself at home.
Edison was very interested in science and loved inventing things. At age 10, Edison built his first science laboratory in the basement of the family's home. His father did not approve of all the time that he spent on science, so he paid Thomas a penny for each novel or history book he read. Thomas read the books, collected the money, and often spent it on supplies for his experiments and inventions.