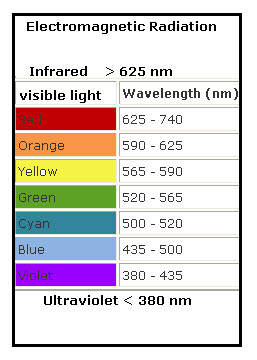 In order to see anything, light must enter and be absorbed by the special light sensitive cells inside your eyes. These special cells called cones and rods are only sensitive to visible light, which are electromagnetic waves with wavelengths from      380 nm to 740 nm.
While the term light is commonly thought to mean visible light, a more broad meaning is that all electromagnetic radiation is a form of LIGHT ENERGY.
The different types of electromagnetic radiation from the most energetic to the least energetic are: gamma, x-ray, ultraviolet light, visible light (violet, blue, cyan, green, yellow, orange, red), infrared, microwaves, radio waves.
A clear piece of glass is transparent to visible light. This is why you can see through the glass. Being transparent to visible light means the available electrons of the atoms forming the glass cannot absorb the photons of visible light.
STOP! This is really much easier than it sounds. Just remember that every type of light is made of photons, which are tiny packets of energy. Red light photons have less energy than do violet light photons or x-ray photons.
Now lets think about the atoms forming the glass. All atoms have electrons moving around their center called a nucleus. Without getting too technical, every kind of atoms can absorb only photons with a specific amount of energy. Photons that cannot be absorbed pass through or get reflected some way. Let's just think about photons passing straight through and that is what happens when visible light strikes a very clean, clear, piece of glass.
Note: Glass is not transparent to infrared light. This means that infrared light cannot pass through glass. UMM!! Since infrared light causes things to heat up, why does my car get so hot inside when it sits in the sunlight with its windows rolled up???
For information about this phenomenon, see THE GREENHOUSE EFFECT.