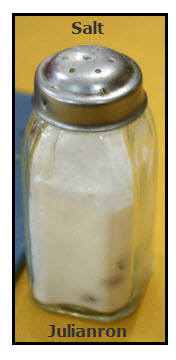 Sodium Chloride is a compound made of two elements, sodium and chlorine. The common name for sodium chloride is  Table Salt.
There are different varieties of table salt. Some differ in additives, while others differ in how they are processed, which affects their texture.
Table Salt (iodized)

Most table salt in the United States is sold with a small amount of potassium iodine as a dietary supplement to prevent thyroid disorders. This salt also has chemical additives to help prevent the salt from absorbing water.
Pickling Salt-Canning Salt
This salt is similar to table salt without some of the additives, such as iodine and anti-caking chemicals which turn pickles dark and the pickling liquid cloudy. While these chemicals do not affect the taste of the pickles, their appearance is not very appetizing.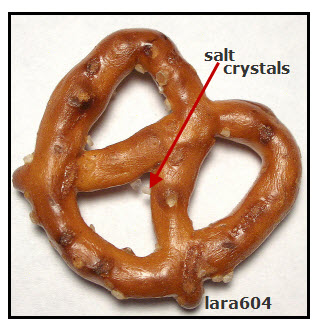 Pretzel Salt
Large crystals.
Rock Salt
Large crystals with a gray color due to minerals that have been removed  from normal table salt.
Popcorn Salt
Very fine grained salt. This is a flakier version of table salt.
Seasoned Salt
Table salt with spices, such as onion and garlic added.
Kosher Salt
While its name indicates it is part of the Jewish dietary laws, it is actually no different in composition than table salt without any additives. There is a difference in texture, which is due to Kosher salt being raked during the evaporation process which gives it a block-like structure.  The raking makes Kosher salt coarser and flakier than table salt so it is more easily spread out. This makes Kosher salt lighter and less dense than table salt.
Kosher salt is  spread over meat which allows the salt to draw the blood out of meats. This is a process that adheres to the Jewish dietary laws, thus the reason for the salts name–Kosher.