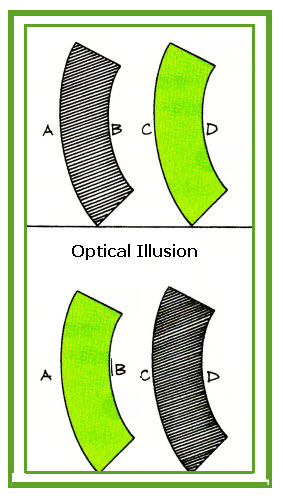 I love optical illusions. For example, the two curved pieces of paper in the diagram are exactly the same size. I know that because I cut them with the same pattern. I find it fascinating that my brain seems to have a "mind of its own." What I know and what I see are different.
What seems to be a trick is an optical illusion (something that appears to be different from what is really there).
In the upper and lower diagrams, the curved paper on the right appears larger. This is because your eye compares  two curves sides (B and C) that are next to each other, the curved paper on the right will always appear larger.
Discover for Yourself
1. Lay two different colors of paper one on top of the other.
2. Using a pencil, draw the curved design as shown. Make the shape as large as possible.
3. Cut out the curved design by cutting through both layers of paper.
4. Lay the curved designs side-by-side as in the diagram.
5. Switch the positions of the cut-outs.
The paper on the right-hand side, no matter what its color, appears to be larger.
Challenge: Would you get the same results if both papers were the same color?