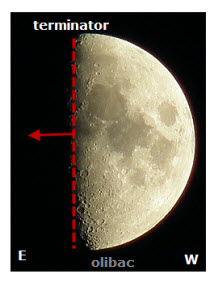 Question: How can one identify a waxing Moon from a  waning Moon?

Answer:
The Moon's terminator is  an imaginary line dividing the lit and unlit parts of the Moon disk seen from Earth.
A waxing Moon is growing. This means its lighted part is increasing.
A waning Moon is shrinking. This means its lighted part is decreasing.
In the Northern Hemisphere, the Moon's terminator line moves from west to east. This means that when facing south, the Moon's terminator line always moves from right to left.
In the top p
hoto, the terminator line is shown as a dashed line. The arrow indicates the direction the terminator will move as the Moon progresses through its different phases. You might imagine stretching the lighted part to the left so that more of the Moon is covered. Since the lighted part will be growing each day, the Moon shown is a waxing Moon.
The photo to the left is of a waning Moon. This time the terminator line appears to be drawing a dark covering over the Moon's surface.