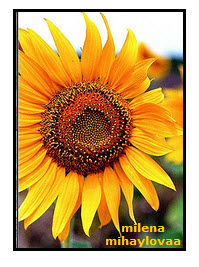 Sun-tracking or heliotropic flowers face the Sun as it moves across the sky each day.
Sunflowers are heliotropic.

How do these flowers turn so they face the Sun during the day?

Discover for Yourself!
Do the stems of twist so that the flowers continue to face the Sun? You can check this out for yourself. The sunflowers that I observed did not have twisted stems.
What's Happening?
Sunflowers follow the Sun because their stems have unequal growth during the day. The side of the stem facing away from the Sun grows more than does its side facing the Sun. This uneven growth causes the stem to bend toward its shorter side, the side facing the Sun.
Discover for Yourself!
Prove to yourself that a stem bends toward its shorter side.
1. Fold a sheet of paper in half, placing the top and bottom sides together.
2. Starting at the fold, cut a strip about 5 cm wide.
3. Unfold the strip, and then cut about one-half cm off of ONE END.
4. Refold and tape the ends together.
5. Notice: There is a space between the two sides of the strip. The larger side curves outward away from the shorter side.
6. Holding the two ends of the strip, slightly bend the strip toward the longer side.
Notice: The two sides fit together with both sides curving in the same direction.