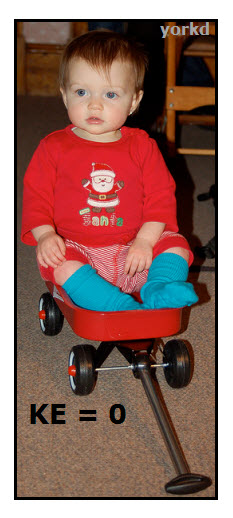 The wagon in the photo is not moving, thus it has no kinetic energy (energy of moving things). If you pull the wagon across the room, you cause the wagon to move a certain distance.
In other words, you do WORK on the wagon.
Work = Force x distance
When you pull (apply a force) on the wagon, the wagon changes from being stationary to being in motion. In other words, the kinetic energy of the wagon and contents increases.
Where did this kinetic energy come from?
It came from you–the person that exerts a force on the wagon. You used chemical energy from the food you ate to move the wagon. In other words, when you did work on the wagon, you transferred energy from your body (chemical energy) to the wagon causing it to move.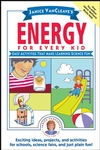 When you did work on the wagon, the chemical energy in your body decreased and the wagon's kinetic energy increased.
Science Challenge: Energy transfers are continually occurring in and around you. How many examples can you give?
Start with Energy from the Sun—